Taping and Jointing

Dryline provides expert taping and jointing services in London. With an experienced team, we achieve a seamless jointing of tapered-edged boards to ceilings and walls, leaving the smoothest possible finish.

Our taping and jointing services deliver time and costs savings when compared to plaster skimming. This is due to the fact that much less water is used, and both shrinking and drying times are reduced as a result. As a further advantage, if you get taping and jointing in London, it means that the decorating for your project can also get off to a quicker start.

At Dryline, we pride ourselves on offering a high-quality, quick finish, helping you to speed up the project and get started with any final decorations promptly.
The Benefits of Working with Us
Dryline specialise in the provision of high-quality taping and jointing services in London. Our business is trusted, well established, and can help with a range of other related project needs. We have the skills and experience that enable us to deliver large-scale, comprehensive projects and the agility to help with smaller taping and jointing projects too.
Highest-quality workmanship
Superb value for money – guaranteed
Professional, experienced team covering all of London
Trusted business with a superb reputation
Consultative and communicative – you always know what's going on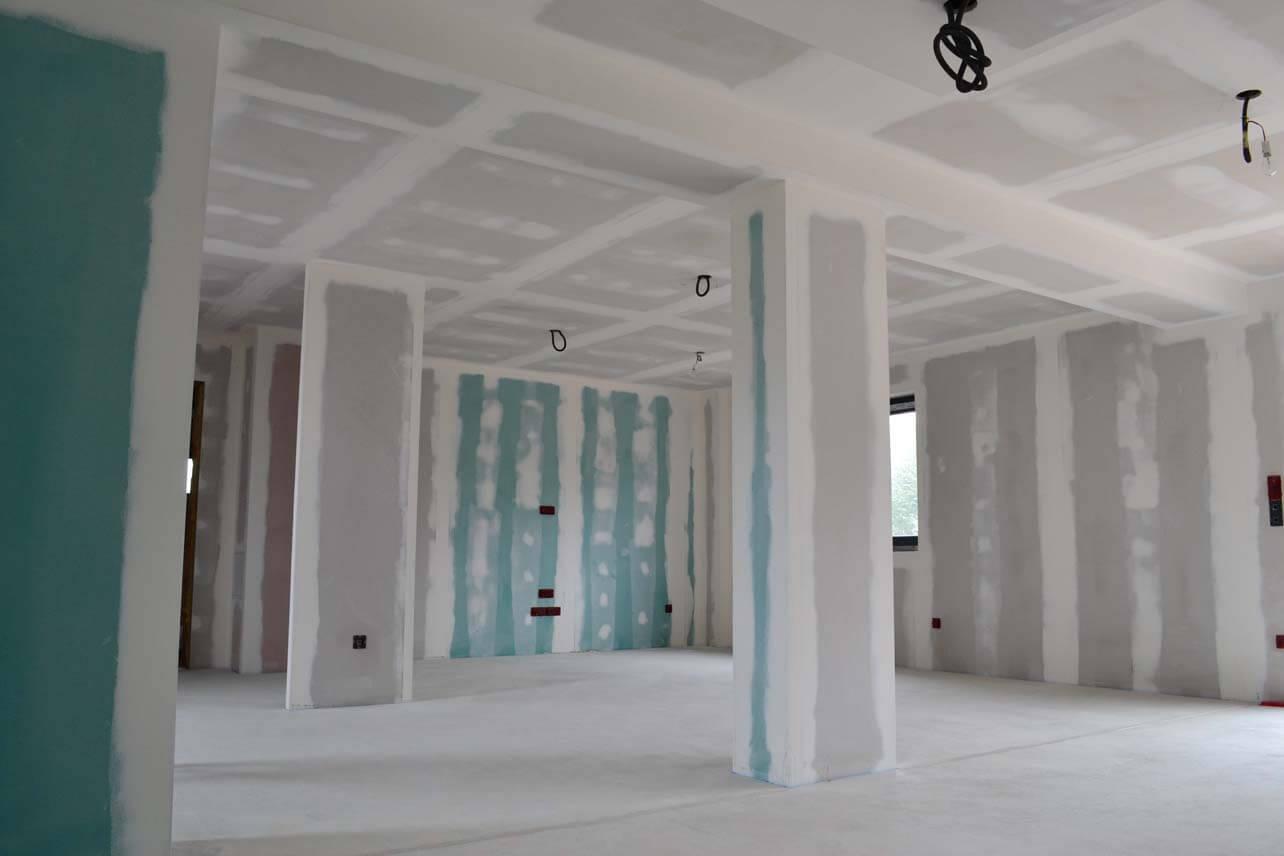 If you're based in London, and require taping and jointing services for your project, then we welcome you to give us a call and see for yourself how reasonable our prices are. Dealing with Dryline, as experts in this field, can give you peace of mind for your project, and a safe pair of hands to manage all taping and jointing requirements with ease.
How taping and jointing works
The system of taping and jointing is used for the seamless jointing of tapered-edged board to ceilings and walls. The jointing of all flat, external, and internal corner joints is done with the precise application of one coat of joint cement, and two coats of joint filler. This is a multi-stage process that also required the bedding of the tape following the application of the joint filler. Next, the joint cement will blend the joints into the wall and cover the tape. Using a trowel, a finer topcoat is then applied, and then a dustless sander is used to rub it all down.

In order to get the best taping and jointing results, you need a team of experts that have the correct experience and the best techniques. When done professionally, it leaves a crisp and smooth finish, which is fully ready to be decorated.
If you need expert taping and jointing in London, then contact a member of our team today. We can answer any questions you might have, arrange a visit, or give you a quote for your project.