Suspended Ceilings

Dryline fit suspended ceilings in London throughout offices, retail units, commercial, and industrial premises of all sizes. Our false ceilings are designed to be practical, long-lasting, and aesthetically fitting with any style. From helping make a space more energy efficient, concealing AC or ventilation units, our professional suspended ceilings create modern and sleek office designs.
The Benefits of Working with Us
Dryline design and install a range of high-quality suspended ceilings across London. We are established, experienced, and trusted to provide exceptional products, quality craftsmanship, and installations that are on time and on budget. From small to large-scale projects, our team has the capacity to handle it all.
Highest standards of work
Competitive pricing – guaranteed
Experienced suspended ceiling company in London
Trusted business with a superb track record
Consultative and communicative – you always know what's going on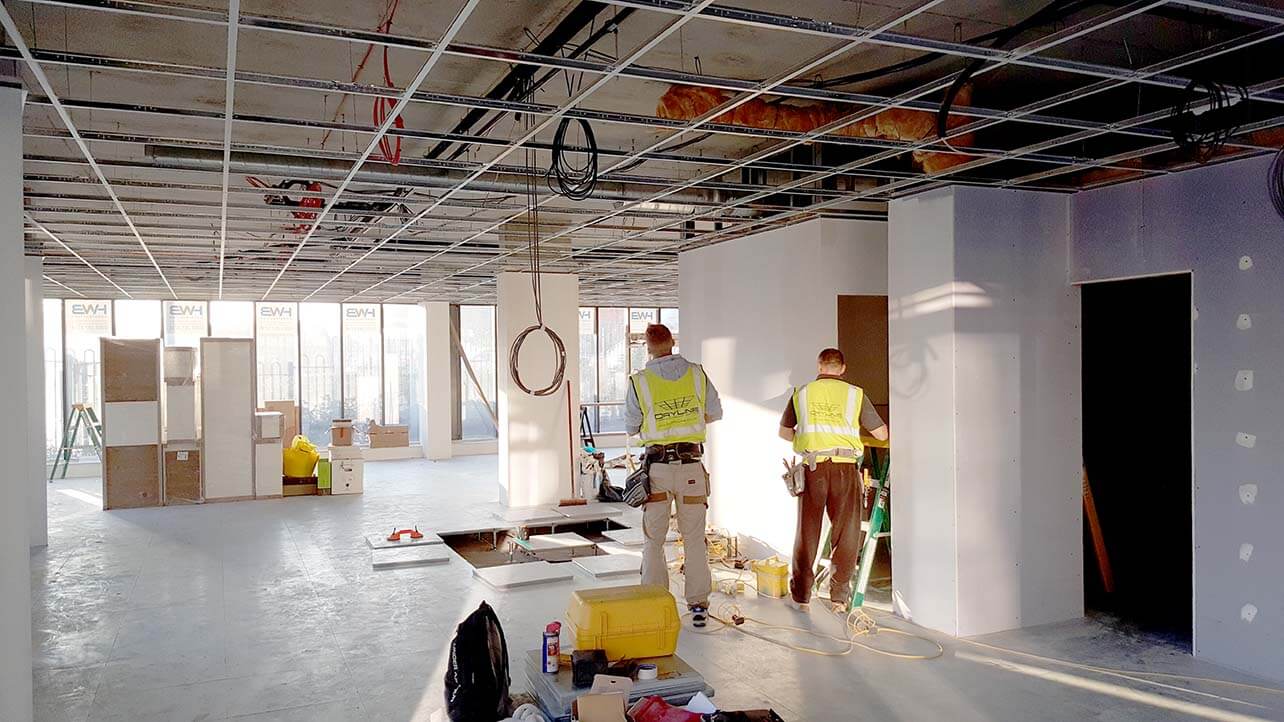 The Different Types of Suspended Ceilings We Supply in London
At Dryline, we offer a range of suspended ceilings to match the individual needs of the client and the space. When you speak with a member of our team, we'll work closely with you to select the most suitable suspended ceiling, with budget, functionality, and appearance in mind.
Concealed Ceiling Grid
A concealed suspended ceiling is the ideal choice for those who want to reap the benefits of a false ceiling, but don't particularly like their appearance. They are available as fully concealed or semi-concealed options.
Corrosive Resistant Ceiling
This type of false ceiling is resistant to corrosive environments, such as places with high levels of humidity. Compared with other types of suspended ceilings, they are often the preferred choice due to how long they last.
Non-Ferrous Ceiling Grid
This type of suspended ceiling is typically used in hygiene-conscious facilities or spaces that demand high standards of cleanliness.
Fire-rated Ceiling Grid – 1 Hour
This presents a highly practical alternative to plasterboard, and as the name suggests, a 1-hour fire-rated false ceiling is highly resident to fire damage for a 1-hour period. Typically, they are installed in industrials spaces or restaurants where there is an elevated risk of fire. They also enable smoke detectors and sprinkler systems to be activated quicker because of the reduced height of the room.
Suspended Ceilings London
All of the systems we use at Dryline are robust and designed to provide you with a long-lasting solution. We work with leading manufacturers and offer different types of grids to suit different requirements. Our team has a wealth of experience in helping clients choose the best type of false ceiling, and the building itself will often determine which options are most applicable.
If you need to find a company in London that designs, supplies, and installs suspended ceilings, then contact a member of our team today. We can answer any questions you might have, arrange a visit, or give you a quote for your project.