Office glass partitioning

Dryline design, supply, and install office partitioning London for a range of different commercial properties and offices. Open plan working arrangements are very popular and present the ideal solution for those looking to create an open, inviting, engaging workplace or office.

With the right style and type of office partition, you can keep noise pollution at bay, and create the ideal workplace or meeting place for your people.
The Best Office Partitions for London Businesses
As we've already mentioned, open-plan offices have a huge amount of benefits. However, they need to be designed effectively, in order to prevent issues with noise, privacy, and productivity which can arise if professional office partition services are not fully utilised.

At Dryline, we provide a huge range of choice when it comes to finding the best type of office partitions for your business. Aside from standard partitions, we also provide glass partitions, which can help people and individuals get a better level of privacy, while still benefiting from the modern open-plan design so many seek.

Our London office partitioning is great for creating private spaces, communal working areas, and meeting rooms. If you want the best office partition system in your business, that considers privacy, productivity, and comfort in equal parts, then speak to a member of our team today.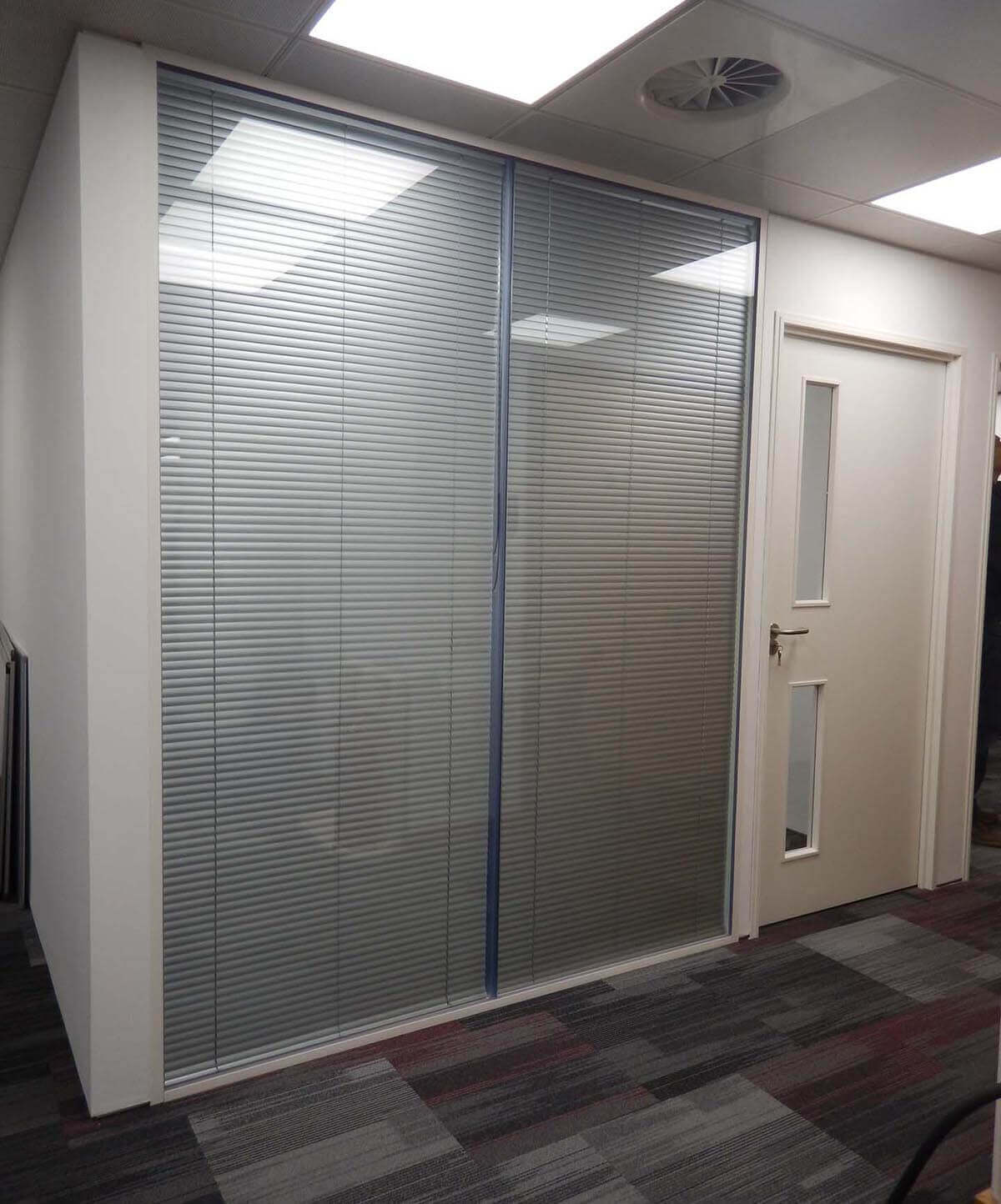 The Benefits of Quality Glass Partitioning Services in London

Both glass and traditional office partitions in London provide a range of benefits to many different types of workplaces. Here is a quick summary of the benefits.
1. Increased energy efficiency
When designed correctly, having office partitions can actually make your space easier to heat, by keeping heat within certain areas. It can result in lower energy costs, which also helps with contributing to a more sustainable working environment.
2. Reduce Sound Amplification for a More Peaceful Working Environment
Many people are able to work just fine with a little background noise, whereas others find it distracting and disruptive. Open-plan offices are always going to have a little buzz about them, but when the noise increases, and there are no sound barriers in place, it can start to hamper your people's productivity. Office partitions can help reduce noise pollution, as they absorb a lot of the sounds that would otherwise amplify around the room. They are also a proven way to reduce background noise in office environments, thus helping customers and employers communicate more easily and more effectively.


3. Enhanced Privacy and Comfort
Office partitions can eliminate any concerns over privacy, and it can also give individuals a little more comfort. Private conversations are particularly challenging in open-plan environments, the addition of office partitions can give individuals the space and privacy they need.
The Benefits of Working with Us
Dryline specialise in the provision of high-quality office partitioning London. Our business is trusted, well established, and has a superb reputation for delivering projects on time and on budget. We have the skills and experience to deliver large-scale, comprehensive projects and the agility to help with smaller projects too.
Highest standards of quality workmanship
Superb value for money – guaranteed
Professional, experienced office partitioning contractors in London
Trusted business with a superb reputation
Consultative and communicative – you always know what's going on
If you need a company in London that designs, supplies, and installs office partitioning, then contact a member of our team today. We can answer any questions you might have, arrange a visit, or give you a quote for your project.