Dry Walls

Dryline are your local London Drywalling experts. Our team have unrivalled experience, and work on projects that are comprehensive and complex through to those smaller spaces and micro-projects that are quick to complete.

As one of the best London drywall companies, we have earned an impeccable reputation for delivering projects on time and on budget; both of these factors have been paramount to our own success, and the success of our client's projects.
What are the benefits and reasons for drywalls?
Whether you are a commercial or residential client, there are many benefits to installing dry walls in your property. They can increase the overall comfort in any space, provide an additional layer of sound insultation, and when professionally insulated, they offer demonstrable energy and cost-efficiency benefits.

Dry walls are used to cover ceilings and walls with a number of plasterboard layers, and at Dryline, we provide materials that are the highest grade of quality, while still being budget-conscious. Dry walls are known under a number of different names. Sheetrock is a fairly common terminology, but this is actually a particular brand of drywall; some of the others include, plasterboard, wallboard, gypsum panels, or gypsum board.
The Different Sizes and Types of Drywall
At Dryline, we provide custom drywalls for all our projects and clients. Thus, there is no need to worry about what size drywall is best for your property. Typically, drywall comes in sheets or panels that are 4-foot-wide, and in lengths of between 8-16 feet.
Speciality types of drywall include:
Fire-rated drywall
Moisture resistant drywall - also known as greenboard
Flexible drywall
In addition to this, there are other drywall products that are specifically designed as backing for installations of ceramic tile. They come with an addition of polymer or fiberglass to provide extra water resistance in the event water is able to get through the tiles.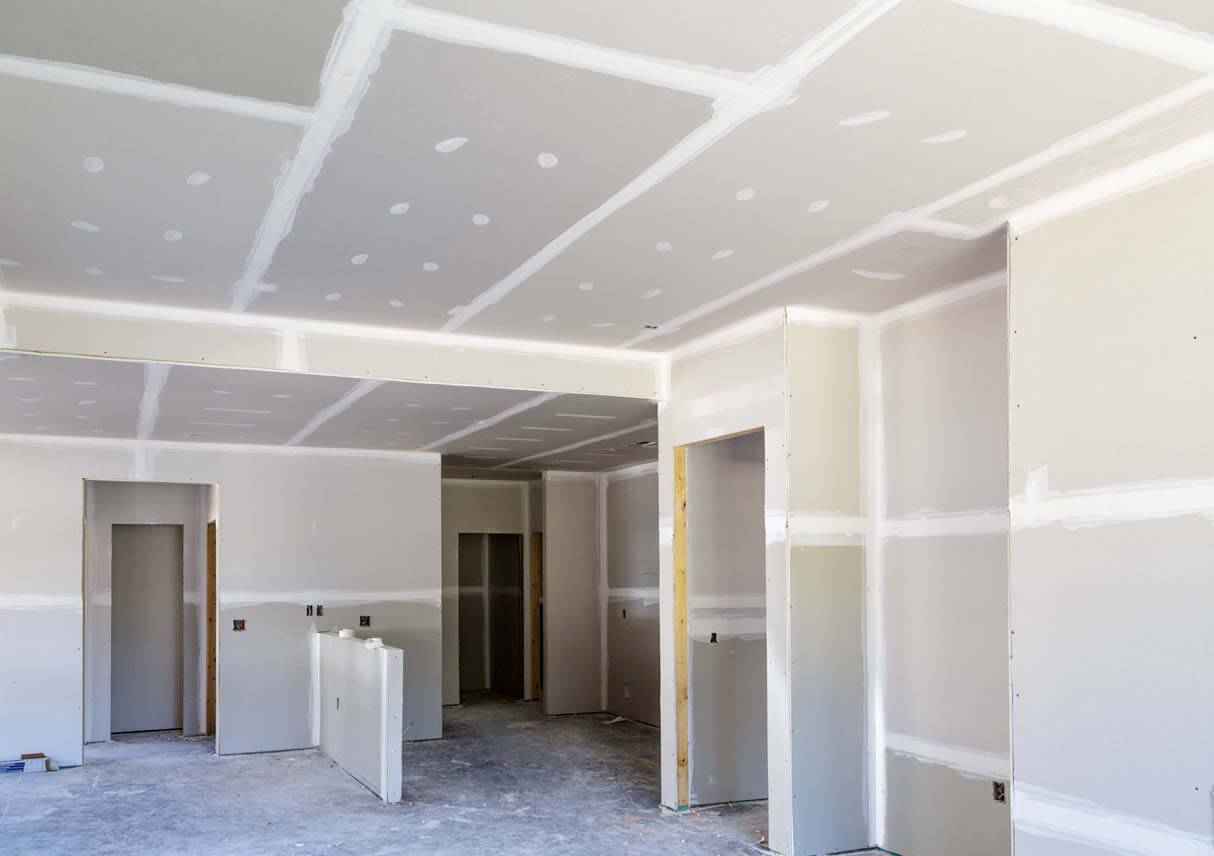 We Install Drywall in London
At Dryline, we have a team of experienced, professional dryline installers who can help with the initial design, supply, and install of drywalls anywhere in London.

Typically, drywall is installed over two phases of work, with the ceilings usually being completed first, followed by the walls. The first phase involved hanging the panels and completing the joints. The second phase is finishing the drywall, and this is the part which takes patience, experience, and skill. All of which our team has in abundance.
The Benefits of Working with Us

Dryline specialise in the provision of high-quality drywall services across London. Our business is trusted, well established, and fully competent. We have the skills and experience to deliver large-scale, comprehensive projects, and the agility to help with smaller drywall projects as well.
Highest standards of quality workmanship
Superb value for money – guaranteed
Professional, experienced drywall company in London
Trusted business with a superb reputation
Consultative and communicative – so you always know what's going on
If you need to find a company in London that designs, supplies, and installs drywalls, then contact a member of our team today. We can answer any questions you might have, arrange a visit, or give you a quote for your project.